jctv (J):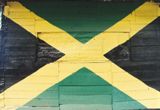 Hellshire

Diary, Tuesday 20th August, 1996:

On the way to the beach I stopped the car at the edge of the fishermen's village to take a picture of an enormous pile of garbage spilling out of a roofless three-walled structure. The garbage was facing the village and set dramatically against a beautiful view of the mountains. "Eh man, Why you tek pictcha of garbage?" Three young men sitting behind a little wooden fence, all of them laughing at "crazy whitey tekking a pictcha of garbage". "No," I replied, lying, "I took a picture of the hills. Can I take a picture of your fence." "Well man, me want to pretty it up. Tek a picture of Us man." "No" I replied, "I want a picture of the fence." He shrugged and let me. We drove on, stopped to buy a Ting. Just as we were going to leave Hellshire, the young man runs up to the car. "Eh man me beg yuh some money now, for improvement." "No," I replied, "I don't have money for that." "Man, look what the flood has done to me, me try to develop a lickle restaurant, but me can't get clients with all the garbage. You tek picture of Garbage, you take picture of my back yard, You don't take picture of my house, You don't tek picture of me. Something's not right, you know." "Look at your fence," I said, "its a beautiful fence!" He smiled. We left and drove to Spanishtown, past the long rectangular, early nineteenth century prison. A prisoner from one of the tiny windows overlooking the road leading to the town square waved at us, with an awkward movement. I waved back.
The fence
The Garbage. The mountains didn't make it onto the picture
St Catherine Prison, Spanishtown
Contact me at: jacob@voorthuis.net
copyright © jacob voorthuis 1994-2011
All written material on this page is copyrighted.
Please cite Jacob Voorthuis as the author and Voorthuis.net as the publisher.