jctv (J):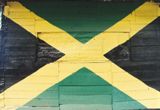 God control

Diary, Saturday 27th May 1995:


On the way back from Portland, driving in a long snake, or rather caterpillar of cars. On the side of the road stands a man robed in huge swaths of white shiny satin: self-apotheosising brilliance. In his right hand he holds a lacquered black sign, which he thrusts at every car. It reads "GOD CONTROLS YOU".
Contact me at: jacob@voorthuis.net
copyright © jacob voorthuis 1994-2011
All written material on this page is copyrighted.
Please cite Jacob Voorthuis as the author and Voorthuis.net as the publisher.