jctv: 06-12-2010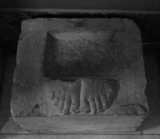 The Delights of SPAM, SPAM, SPAM, SPAM: An email from Doris, perhaps containing a courtesy virus or some other form of digital nastiness. Whatever it was, it managed to pass through my spam filter to raise a funny-but-also-a-little-sad-sort-of smile.

Hello dear
how are you today i hope that every things is OK with you as is my name is doris is my pleasure to contact you after viewing your profile which really interest me in having communication with you if you will have the desire with me so that we can get to know each other better and see what happened in future. i will be very happy if you can write me back at my personal email for easiest communication and to know more about each other.i will send you my picture when i receive your reply,i will be waiting to hear from you as i wish you all the best for your day. yours new friend

doris

Doris is my new friend. I deleted her mail without operning it of course. Even so, I wonder who the sender was and what he or she looked like and what he or she really want from me, and above all, what they want for themselves.

The same day I got another spam mail with the title: Solve Your Male Problems with IT. The mind boggles.
Contact me at: jacob@voorthuis.net
copyright © jacob voorthuis 1994-2010
All written material on this page is copyrighted.
Please cite Jacob Voorthuis as the author and Voorthuis.net as the publisher.